Guides
Cam
AWOL is based in Auckland and running canyoning trips to the Waitakere Rainforest 40 minutes from central Auckland.
Cam spent 10 years travelling the world; Working as a dive master, rafting and canyoning guide in Queenstown, Zimbabwe, Nepal, Switzerland and Thailand before returning home and setting up AWOL Adventures 20 years ago. Cam has completed his NZOIA Canyon 2 qualification. When not in the canyon Cam can usually be found with his family, or out involved with Landsar (Search and rescue).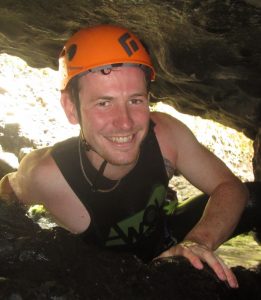 Euan
Wise beyond his years from a life on the road with his father engineering around the globe. Euan is originally from somewhere far north (Scotland i think they call it), but grew up in Jamaica and Africa and now lives in New Zealand. Euan has guided with us for three years now, learning his canyon guiding skills while he studied a Outdoor Adventure diploma and Unitech.
Shanan
A professional fire fighter with a love for canyoning. Never missing a opportunity to explore new canyons or learn more about the art of canyoning. Shanan is an easy going guy with a easy smile to match. Also a member of the SAR cave rescue team in Auckland as well as having his NZOIA Canyon 2.
Steve
Steve guided in the canyon for one season, now back home in England he maintains our website for us!
Elise
An experienced canyon guide with several seasons guiding in Auckland and Coromandel. Elise is passionate about the outdoors including many years of rock climbing, white water kayaking and surfing. Her skills and enthusiasm have got her positions on a adventure trust and managing rock climbing gyms. Elise holds her NZOIA Canyon 1.
We follow strict risk management guidelines – Instructors and management are fully qualified and experienced. After fourteen years operating in the Piha Canyon we can offer an excellent local knowledge and understanding of the Waitakere Ranges. AWOL Adventures is an Auckland Council Licensed Operator – The resources we use are carefully chosen, managed and monitored. Our trips blend fun with adventure and education.